Escoe Industrial continually strives to become the leading general contractor for industrial facilities specializing in turnkey installations involving civil, mechanical and electrical construction. Escoe Industrial began in 1991 as a full service electrical contractor specializing in both construction and maintenance. We offer 24-hour service with the best qualified industrial and commercial maintenance available.
Our electrical services include trained personnel in all phases of industrial wiring, including automation, controls, main services, communication wiring and instrumentation. With the experience and size of our electrical division, we can provide all your wiring needs, small or large.
Safety is the #1 priority at Escoe Industrial. Our staff is trained and certified.
Escoe Industrial Mechanical
In 1993, Escoe Industrial formed a mechanical division to compliment the electrical division. We can provide design/build services on reinforced concrete and structural / miscellaneous steel projects. We offer shop and field fabrication capabilities for catwalks, handrails, ladders, mezzanines, sheet metal, stairs, and other steel products.
Our experience working in industrial facilities include Chemicals, Printing, Tire/Rubber, Food Processing, Agricultural, Plastic/Metal Processing, Paints, Textiles, and Pharmaceuticals.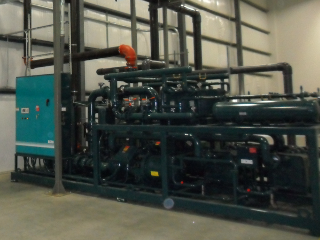 EIC/EIM Services
Hazardous Locations
Class I and II chemical plants, refineries, grain elevators, etc.
Conveyor Systems
PLC and hard-wired process controls, electrical control valves, scales, DCS systems and control panel installation and fabrication.
Electric and Gas Melters, Ovens, Electric and Gas Kilns
Indoor and outdoor, office, warehouse, security, and parking lot lighting
Robotic Controls
Networking, Cat 5 Installation
Power distribution, service installation, electrical equipment, motors, A/C D/C drives, high voltage
Institutional work in hospitals, labs, schools, etc.